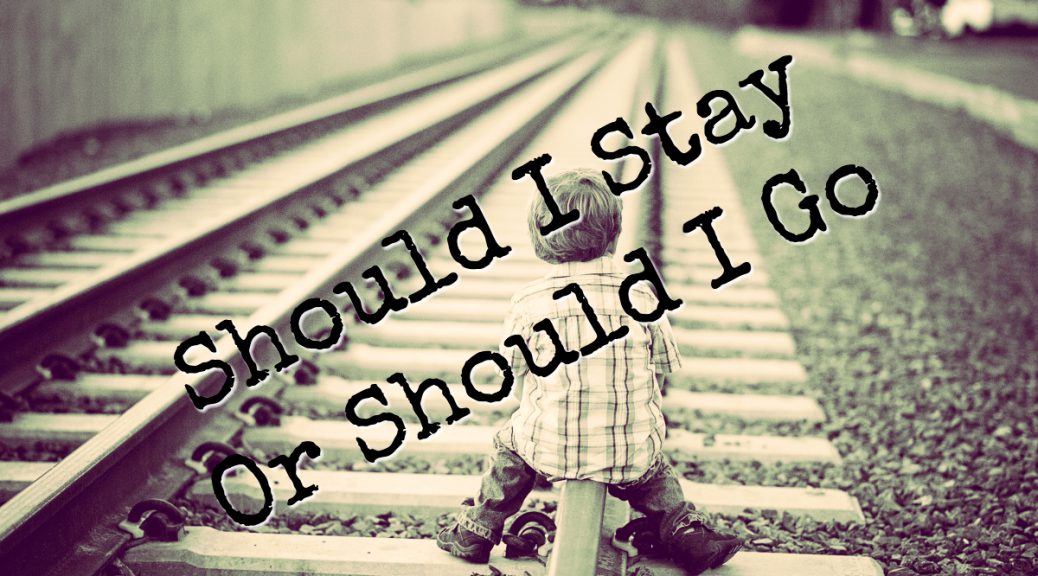 Should I Stay Or Should I Go
Should I Stay Or Should I Go
I hope that I don't have to introduce this legendary track to anyone, but if you somehow managed to live without knowing it, please press play now. For a while I did not know what should be the title of this post, then while working on it suddenly it started to play on Deezer and I knew that is it. The perfect summary of the struggle of my last two weeks. Hint: this post is not about moving.
As we are getting closer to the end of the year it seems that there are two recurring topics which bloggers write about these days. They are the reflection on the past year and goals for the next one. I am not an exception, these questions dug themselves heavily into my brain. Even some may have noticed that Tuesday I broke my posting schedule for the first time. This has two reasons. For one I was curious how would it affect my OCD 🙂 The other is that I was not sure if I really want to publish this post, but finally decided to do so.
Today I am three months into blogging. It could be "not a big deal" for some of you, but for someone who has a long history of procrastination and giving things up for me, it is a big thing. When I started this hobby I was really curious how long can I get with it. My promise was that I should stick to it for at least a year, but then this reflection season hit me and forced me into the evaluation of the past three months. This process led to the aforementioned question. So, let me share my findings.
The numbers
Some bloggers share these type of reports monthly or quarterly. I did not do it so far because I felt that my numbers are nothing like someone should brag about, but to show the complete picture I decided to share them.
As you can see the results are not stellar, but at least they pretty much align with my marketing efforts. 🙂
The achievements
While I did not have predefined goals about the points in the previous section, I had some less quantitative ones.
Keep blogging for at least a year – three months check, so good so far
Learn the technical background of blogging – basic level reached
Become part of the community – there is space for improvement in terms of activity, but good enough I think
Make connections – I got in touch with many wonderful people and even some of my hero bloggers know about my existence, I can say that I am satisfied
Appear on RockstarFinance – achieved this, however only made it to the gossip section: HaltCatchFire turns $$$ bloggers into Memes
The struggles
And we finally got to the part which made the title question a consideration at all. As seen in many posts I can only echo the saying "it's all about time". I can not say that I was not warned, so please when someone tells you that blogging requires a lot of time believe them. I was told that you should not start a blog if:
you are bad at time management/lack of free time – check
you have small children in da house – double check
won't do it for free – I am ok with this
My biggest concern is not numbers, achievements, etc, but the feeling that what I produced so far is not the best quality stuff I could provide. When I reread my articles I find them entertaining at most. Have to admit that most of the time I am living from post to post. Was not a single case when I have put together an article in the two hours before publishing. I had two prewritten articles in my buffer when I started and I used both of them so far. So, I have a writing problem…
Same time I am a geeky guy and have to admit that setting up the blog, playing with plugins and testing the performance was one of the funniest things in the whole process. I am more or less satisfied with the current setup, but it has endless possibilities for improvement (and having fun).
The third point here is socializing. I still don't want to enter into the Facebook world and have no idea what Pinterest and Instagram good for, but I really fell in love with Twitter and would be good to be more active there. The other area is forums where I see a great opportunity for having meaningful conversations with like-minded people.
The decision
I would be a liar if I'd say that quit blogging has not crossed my mind. To be honest, sometimes it seemed the only logical decision. But it does not matter how much I was thinking about it, I just can't. I have started and quit many things over the years and most of them I did not mind at all. But I have a feeling, a voice inside my head which constantly tells me "do not quit". Thus, I came to the only viable conclusion. If I want to stay in blogging I have to redesign my process, my habits and the way I handle the things. So, if you were worried until this point, calm down, you won't losing me. 🙂
In terms of changes stay tuned, I will tell everything next week in my last post of the year. You will be surprised 😉