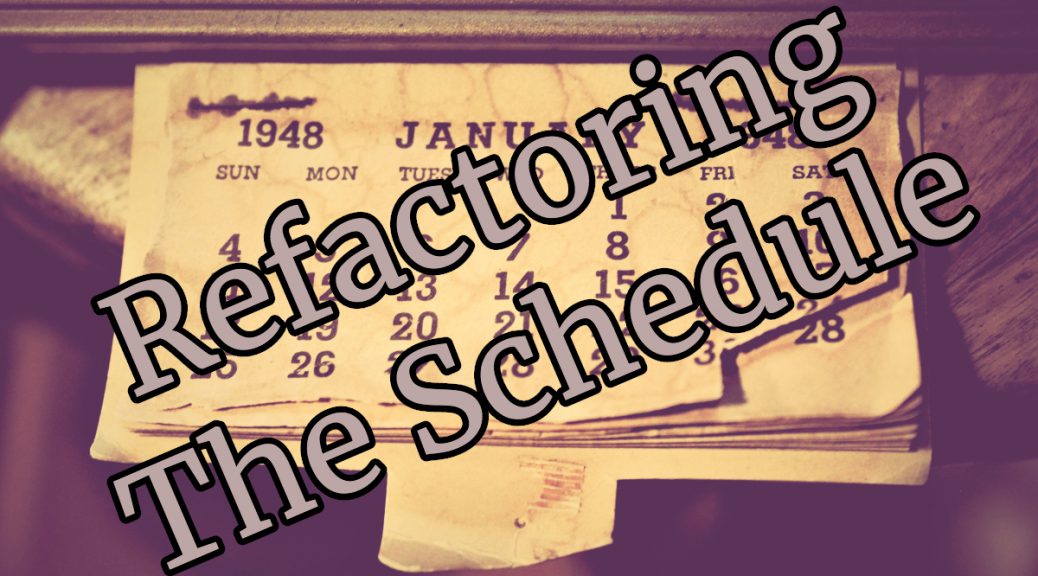 Refactoring The Schedule
Refactoring The Schedule
Last week I was talking(whining) about my blogging struggles, so there come the solutions. Also, thank you for the encouragement I received, good to know that I am not alone with schedule problems. 😉
Posting schedule
My posting frequency so far was two posts per week, one content-based and one meme based. I like to work on both, but the way I was doing it is very inefficient. Living from post to post and write and publish in last minute is not the desired path. I am far from being satisfied with the quality of some of my posts and the best description I can give to them is funny/entertaining (well, most of the times :)). I want to shoot for writing quality content (Rockstar Quality maybe?), using more time, more research and going more in depth.
We are always told that post often and post consistently. That is how great success will come. While this is definitely true it seems that this is not the only way. As it turned out the urge to meet this recommendation did nothing good for my content and pushed me into the struggle. Then I remembered the first podcast episode I heard from Pete McPherson over at DoYouEvenBlog.com which he recorded with our fellow financial blogger PhysicianOnFire. At some point, he was talking about that it is a shame that a lot of newbies quit very soon and asked the question why don't they reduce posting frequency instead to experiment what works for them and what does not. Pete gives some more tips here, definitely worth reading.
This is exactly what I will do. Starting with January I will post only one or two posts per month. I hope that this will help to allocate more time for working on my articles which will be able to provide more value to my readers. Same time it will force me to focus more on the topics. In the past I was picking them randomly, however, I had a long list of potential titles before started blogging. I will combine them with my newer list and choose the most interesting dozen of them. Also, I can not promise that there will not be any random post, like the last (and only, so far) rant(?).

Filling blank spaces
Following the path I described above I still afraid that the lack of weekly fresh stuff will make my tiny reader base abandon the site, so I knew that I have to find out something. Taking into account this fact and combining it with my personal interests I came to the solution that I will fill the void with series and guest posts.
Series
For a while, I was thinking about this and came up with two ideas. The first one is purely fueled by personal interests and I have already reached out to two fellow bloggers who accepted my participation request and have some more on my list to reach out. This will be called "Coders of FInance" and as you probably guessed, I will interview programmers and IT professionals about their lives, jobs, and their FI journey.
The second topic is much more tricky, I feel that it will be a challenge to find participants. The series can be called "World on FIRE", but this is not carved in stone. We get a huge amount of information about FIRE strategies and most of them are very US specific. The fact that I am a non-US dweller myself and that I bet a lot of other members of our community has a healthy amount of financial voyeurism gave me the idea of starting a post series about FIRE strategies, vehicles, possibilities in other countries.
Guest posts
This is probably not a big surprise, everybody does it. I have already collected 5-6 titles which I find very promising, will see if someone would be interested in writing about them. Don't want to share them at this point, but trust me these will be special 😉
Hey, you forgot about Funny Friday
I have a confession. I am a meme addict. Same time I am not that dumb to stop making these which brought probably some of you alone to my site. But that series in its current state is not the best possible way, so be prepared, this week I will do a "Best Of" compilation and then I will shut it down. But don't be afraid, my financial memes will come back next year in a new form, I have something in mind, just have to find out in the holidays how should I achieve that.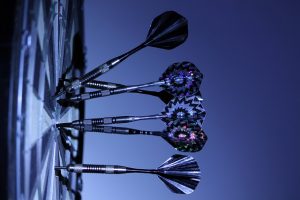 Goals for 2018
So just to summarize and finish off this year here are my blogging goals for the next year.
Stay in blogging and make posting work
Start the aforementioned series
Bring fun into the FIRE community through memes
Receive my first guest post invitation (without asking)
See one of my articles end up featured on Rockstar Finance
Ok, that's all folks. I will spend the holidays focusing on quality family time and working under the hood in my very limited free time so stay tuned for the Funny Friday – Best Of Edition this Friday as that will be my last post this year.